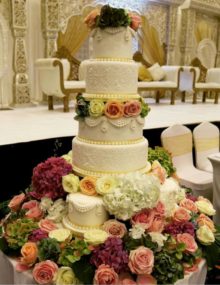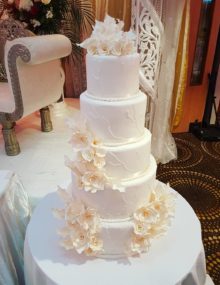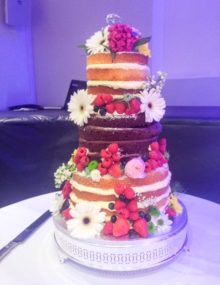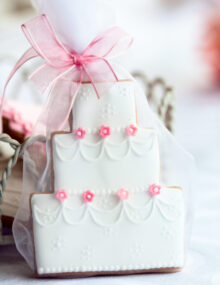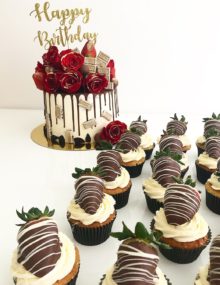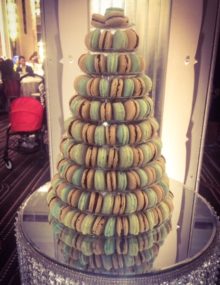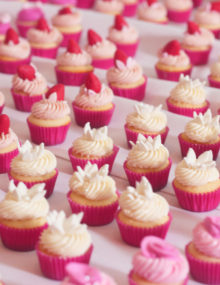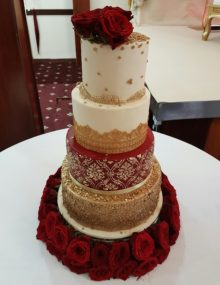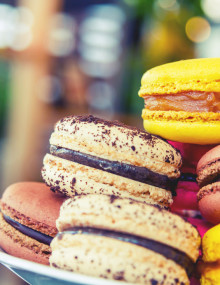 Welcome to Bespoke Cakes and Treats
Based in Ilford, East London, Bespoke Cakes & Treats create and deliver beautiful cakes, cupcakes, wedding favours and treats across the capital, Essex and Home counties.
Working from our professional kitchen in East London, we offer a professional and friendly – yet affordable – service to all our clients regardless of their budget and venue location.
We only use quality ingredients such as fair trade chocolate for our delicious chocolate ganache and fillings, free range eggs, grade A flour, real butter and wherever possible no artificial food colours, flavour enhancers, premixes and preservatives. None of our cakes are frozen – Ever! This is a personal promise. All our iced wedding cakes (with the exception of matured fruit cakes) are made approximately 48 hours prior to your event which gives us just about enough time to prepare and decorate them before delivery.
We pride ourselves in being ethical and publish all our prices on the website. As there are literally hundreds of venues in and around London, it's impossible to give one flat fee for delivery charges. Rest assured, we only charge a nominal fee to deliver your cakes.
We hope you enjoy browsing through our website and get in touch with us to discuss your cake!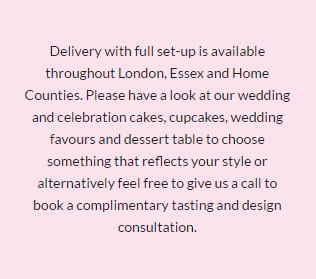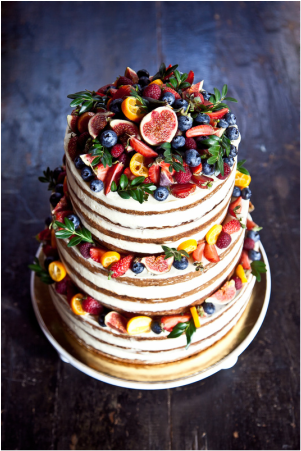 "Me and Jack just wanted to reach out to you to thank you so so much for the amazing cake on Saturday! It looked spectacular, and tasted ridiculously awesome. We had so many compliments on it."
Rachel & Jack
"Now everything is back to normal so I would like to take the opportunity to Thank you for the beautiful and delicious cake. We all loved the cake, it looked beautiful and tasted amazing. Thank you very much!!!"
Ninnja & Hussain
"Thank you for the amazing cake. It was exactly how I wanted it. My guests were so surprised a wedding cake could taste so delicious and moist!"
Tania & Steve
"The cake looked gorgeous and tasted delicious. Our wedding day could not have been more perfect. Thank you!"
Anisa & Rahman
"The cake was so beautiful. I wish I could give you a hug!"
Sara & George
"We have just come back from our honeymoon and wanted to say a big thank you for making our wedding day such a big success. The cake was fantastic and looked amazing. Fruit cake has been saved for our first anniversary!"
Trudy & Daniel
"Amna – My wedding was truly amazing and the amazing cake you made us was a huge success. Thank you again!"
Amanda & Jerome
"I just wanted to say a big thanks to you for making our wedding cake last weekend. My mother-in-law is a professional baker and she said ours was the yummiest wedding cake she had ever tasted. Thanks."
Katie & Aaron
"I was so happy to see our wedding cake. It was better than expected. Thank you for your expertise and professionalism. All the best."
Lisa & Aaron
"Your amazing cake matched our theme perfectly. Thank you!"
Manish & Ash