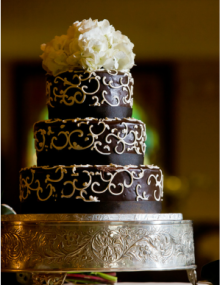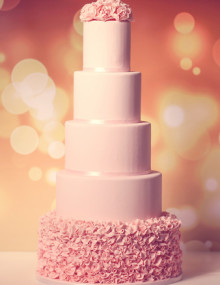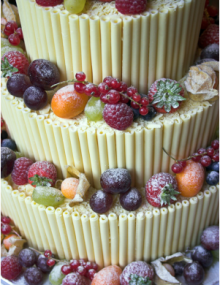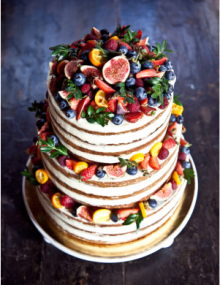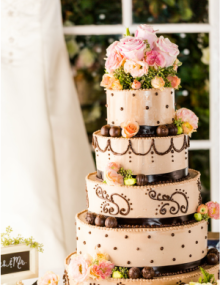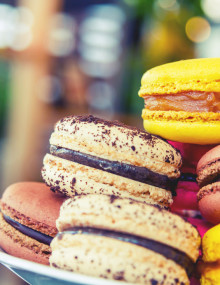 Welcome to Bespoke Cakes and Treats
Home of stunning and mouth watering wedding cakes, celebration cakes, cupcakes and wedding favours. We are renowned for our beautiful wedding cakes that look stunning and taste delicious. We are dedicated to producing wonderful wedding cakes which reflect our clients' personality and wedding theme. All our recipes have been tried and perfected over years and we are proud to say none of our cakes are ever sub-contracted.
All our prices are published on the website. There are no hidden charges.
Since setting up Bespoke Cakes and Treats, we have been humbled to see our wedding cakes at some of the most prestigious wedding venues in the country including Dorchester, The Criterion, The Waldorf, The Landmark Hotel , The Berkley, Lincolns Inn, Addington Palace, Moorpark Estate, Radisson Blu Edwardian – only to name a few. Our corporate clients include luxury brands such as YSL.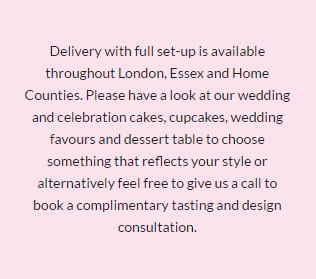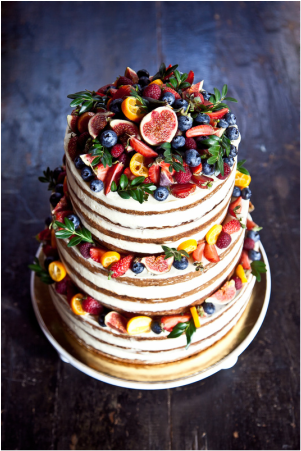 "Me and Jack just wanted to reach out to you to thank you so so much for the amazing cake on Saturday! It looked spectacular, and tasted ridiculously awesome. We had so many compliments on it."
Rachel & Jack
"Now everything is back to normal so I would like to take the opportunity to Thank you for the beautiful and delicious cake. We all loved the cake, it looked beautiful and tasted amazing. Thank you very much!!!"
Ninnja & Hussain
"Thank you for the amazing cake. It was exactly how I wanted it. My guests were so surprised a wedding cake could taste so delicious and moist!"
Tania & Steve
"The cake looked gorgeous and tasted delicious. Our wedding day could not have been more perfect. Thank you!"
Anisa & Rahman
"The cake was so beautiful. I wish I could give you a hug!"
Sara & George
"We have just come back from our honeymoon and wanted to say a big thank you for making our wedding day such a big success. The cake was fantastic and looked amazing. Fruit cake has been saved for our first anniversary!"
Trudy & Daniel
"Amna – My wedding was truly amazing and the amazing cake you made us was a huge success. Thank you again!"
Amanda & Jerome
"I just wanted to say a big thanks to you for making our wedding cake last weekend. My mother-in-law is a professional baker and she said ours was the yummiest wedding cake she had ever tasted. Thanks."
Katie & Aaron
"I was so happy to see our wedding cake. It was better than expected. Thank you for your expertise and professionalism. All the best."
Lisa & Aaron
"Your amazing cake matched our theme perfectly. Thank you!"
Manish & Ash